PlymouthGTX.net - Home of Plymouth GTX Enthusiasts.
Above: 1967 Plymouth GTX from Chrysler advertisement. On the right a stock 440 powered GTX. On the left a stock 426 HEMI powered GTX with a few extra cost options.
Welcome, our site is dedicated to owners and enthusiasts of the 1967 to 1972 Plymouth GTX. Site featured Plymouth GTX's, Information, Production Numbers, Pictures and more. Own a Plymouth GTX? We are looking for GTX's to add to the PlymouthGTX.net site.
Latest Plymouth GTX Added To The Network: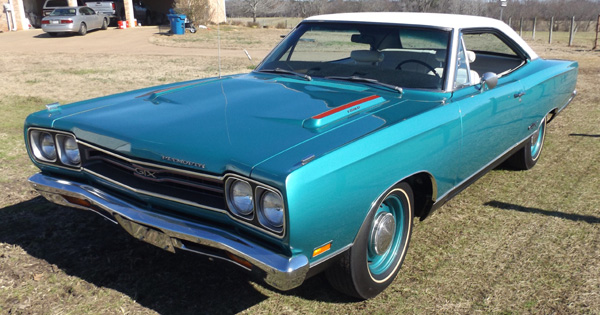 This is my Plymouth GTX: 1969, GTX, Hemi (real J code), 4-speed, Q5 Seafoam Turquoise metallic with white vinyl top, air grabber, radio (Yes, it works), tac, PS, PB, poverty hub caps. Completely restored as original. [More information & photos]
Featured Plymouth GTX's Home
Section contains a collection of featured Plymouth GTX's and other Plymouth models submitted by visitors of the Mopar Enthusiast Network.
Plymouth GTX Screensavers Home
A collection of free downloadable Plymouth GTX screensavers in Widescreen High Definition 1080p. Each GTX screensaver in our collection features a collection of 1967 to 1974 Plymouth GTX photos submitted by our visitors or bouncing logos.
Own A Plymouth GTX? Home
We are always looking for Plymouth GTX's to feature on our network. To participate you must own a Plymouth GTX. It can be your daily driver, your current project... It does not matter WE WILL POST IT! Plus your ride will also be featured in next months Mopars Of The Month. Submit or Update your Plymouth GTX.
Search The Mopar Enthusiast Network:
Sponsored Links: